Transparency is crucial for good stewardship of our global ocean—to fight illegal fishing, to protect fish stocks and livelihoods, and to increase the safety and well-being of fishers. We are committed to promoting international cooperation and transparency around ocean data towards a new era of ocean governance.
About our Transparency Program
Despite its importance, the ocean remains the least observed part of our planet. Without a global picture of our activity at sea, we cannot truly understand the impact humans have on life below water. This lack of visibility is compounded by a patchwork of regulations in fisheries management and fosters an environment where illegal, unreported and unregulated fishing can thrive. At Global Fishing Watch, we believe that improved governance can only happen through increased transparency, from open-access vessel identification to public tracking of vessel activity. Our vision is a healthy, productive and resilient ocean where transparency of information enables the fair and sustainable use of our ocean. Advances in
machine learning and satellite technology
are rapidly transforming our ability to generate new insights. We seek to make this information readily available to those who need it so that every fisheries scientist, management agency and policymaker around the world can harness data and technology to help safeguard the global ocean commons. Using cutting-edge data analysis, Global Fishing Watch is helping governments and maritime security agencies strengthen their methods of monitoring and control and enabling countries to meet their sustainability goals. Countries can benefit from transparency by making the following vessel information publicly available:
Tracking – All vessels should be publicly trackable using automatic identification systems, vessel monitoring systems, or any other viable system.
Identification – All vessels should be allocated with a unique vessel identifier that follows a vessel from construction to scrapping
Authorization – Authorizations to fish and transship catch should be made public and readily available to ensure decision makers can validate vessels quickly and effectively.
Compliance – Vessels that have been identified as engaged in illegal, unreported or unregulated activity should be listed publicly.
Global Fishing Watch primarily uses publicly broadcast automatic identification system, or AIS, data to track fishing vessel movements. While AIS is required for industrial-sized vessels (more than 300 gross tonnes) that are responsible for the majority of the global catch, adding vessel monitoring system (VMS) data, which is now required by many governments, can provide an even clearer view of what is taking place across the ocean.
Global Fishing Watch is committed to bringing countries from around the globe into our transparency program to advance responsible fisheries management. We are working with governments to publish their vessel monitoring system data to our platform to strengthen monitoring and support enforcement. We encourage governments to publish their authorized vessel lists and transshipment authorizations and to require the use of unique vessel identifiers, such as the IMO number.
Making vessel activity publicly trackable is a critical step for countries that are committed to achieving greater transparency in fisheries. When countries share their vessel data on the Global Fishing Watch map, we can create a more complete and connected picture of global fishing activity.
2017
Indonesia
becomes first country to publicly share VMS data
Learn more »
2018
2019
2020
2021
2022
The Republic of the Marshall Islands
commits to sharing VMS data
Benin
commits to sharing VMS data
Norway commits to share VMS data via our map
The waters off South America are home to some of the most lucrative fisheries in the world—one of the most well known is that of jumbo or Humboldt squid. Each year, distant water fleets journey thousands of miles in search of this large, migratory creature that resides in the eastern Pacific Ocean. Sustainable management of squid fisheries depends on a culture of transparency. By improving access to vessel information, we can create a more accurate picture of fishing effort to support research and bolster monitoring and control efforts. Global Fishing Watch seeks to make this information publicly available so that every scientist, enforcement agency and policymaker around the world has a powerful tool to help safeguard the ocean.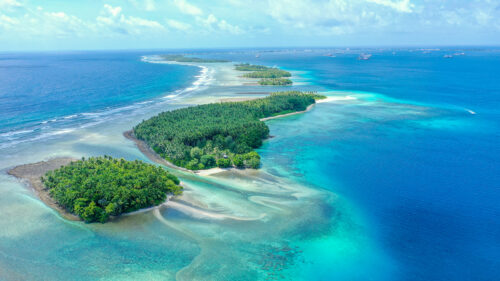 Global Fishing Watch commends the Republic of Marshall Islands' leadership toward fisheries transparency KOROR, THE REPUBLIC OF PALAU – The Republic of the Marshall Islands has committed to sharing its vessel monitoring data on Global