Marine protected areas play a significant role in addressing the threats facing the ocean. They are essential for the recovery and protection of biodiversity, as well as the productivity and resilience in the ocean. When implemented and managed properly, marine protected areas safeguard critical habitats, species and ecological functions, and they can also provide multiple benefits to the people whose livelihoods and traditions depend on them.
In 2015, as one of its Sustainable Development Goals, the United Nations set a target of protecting 10 percent of the world's ocean by 2020. But the international community has fallen short of that goal, with less than 3 percent of the ocean currently safeguarded in what is classified as fully or highly-protected areas.
The design and management of marine protected areas (MPAs) are often hampered by inadequate information to support decision-making. Failure to get data from those who produce it to those who use it often leads to lost opportunities to inform management decisions.
How Global Fishing Watch is creating knowledge about marine protected areas
A rapid increase in the number and variety of ocean-observing systems and other new data sources is dramatically changing our ability to monitor and understand marine ecosystems.
Global Fishing Watch is harnessing the data and technology revolution to support the effective design, management and monitoring of MPAs. Our marine manager portal makes diverse ocean datasets accessible and translates them into actionable information to inform decision-making. It empowers managers to rapidly collate, assess and analyze scientific data integral to the governance of MPAs.
Global Fishing Watch's open data is also used by academic institutions to advance innovative research on MPAs. Our research partners have used data from our platform to assess the effectiveness of MPAs, determine priority areas for protection in waters beyond national jurisdiction, and better understand the response of industrial fishing fleets to large marine protected areas in the Pacific Ocean.
When the Phoenix Islands Protected Area, an MPA in Kiribati, was established in January 2015, our data helped demonstrate its effectiveness and detect when the boundary was not respected.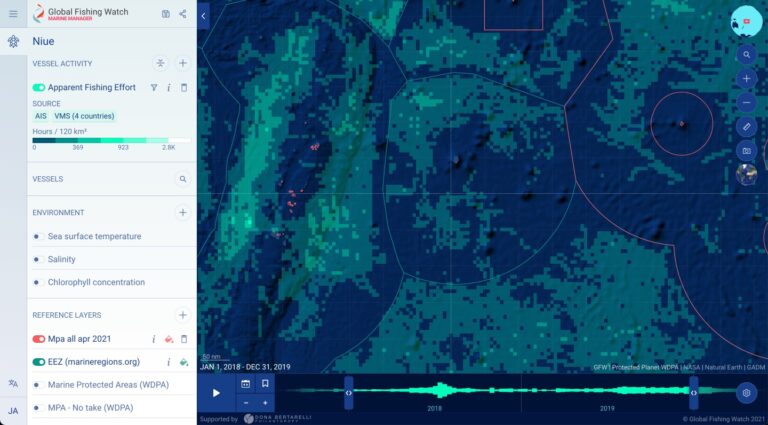 Latest release of online tool will help more people monitor and manage greater expanses of the seas In our brief but exciting history working to shed greater visibility on what's happening on the ocean, we've