Ocean sustainability through transparency, data-sharing and collaboration
Transparency is crucial for good stewardship of our global ocean – to fight illegal fishing, to protect fish stocks and livelihoods, and to increase the safety and well-being of fishers.
Using the power of satellite tracking and cutting-edge data analysis, Global Fishing Watch is helping governments and maritime security agencies to strengthen monitoring and control of fisheries and meet sustainability goals. Making vessel activity publicly trackable is a key first step for countries committed to achieving greater transparency in fisheries – and GFW can help.
Transparency strengthens fisheries management
Where countries publicly share their vessel data we can create a more complete and connected picture of global fishing activity. Law-abiding fishers are tracked easily and openly, demonstrating their compliance. Rogue operators stand out due to their patchy track record or suspicious behavior. Compliant fishers can be rewarded through faster, more efficient port entry and landings. Unauthorized vessels, and those with a history of non-compliance, can be prioritized for inspection or denied port entry.
By embracing transparency, nations have a more cost effective way of monitoring vessels that puts the burden on fishers to demonstrate compliance rather than on the country to prove illegality. 
National leaders in support of data-sharing
In 2016, the Indonesian government launched a program with GFW to make its data from its vessel monitoring system (VMS) publicly available. As a result our platform now tracks the movements of all fishing vessels over 30GT (~5,000 vessels) registered to Indonesia and we provide analysis to support control and enforcement efforts. 
Indonesia's strategic alignment of bold fisheries policies and data sharing works – foreign fishing in the country has dropped by more than 90%. A scientific study also shows that curtailing IUU fishing combined with capping annual harvests at sustainable levels could generate a 14% increase in catch and a 15% increase in profits by 2035 compared with current levels – without short-term losses to the local economy.
Subsequent commitments from Peru, Panama, Chile, Costa Rica and Namibia, along with research partnerships with Australia, Canada, UK and US are generating real momentum in support of fisheries data sharing.
Impact on the water through transparency
To use our platform to track fishing activity, countries can either make it mandatory for all vessels to use automatic identification system (AIS) or they can share their own VMS data. We can also include data from other systems, such as small-scale vessel trackers. We encourage governments to publish their authorized vessel lists and transshipment authorizations, and to require the use of unique vessel identifiers, such as the IMO number.
Vessel tracking data published to the GFW public map is delayed 72 hours, redacted and aggregated to release just enough information to see which vessels are compliant and which may need further investigation. We create a private workspace for partner countries to analyze their data, and we produce analysis, monitoring tools and training to help authorities use and benefit from our technology.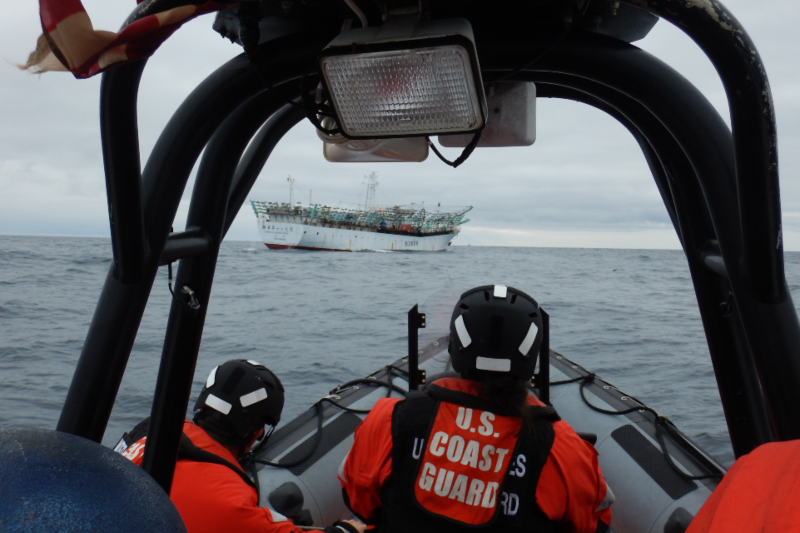 In July and August 2019, GFW supported the US Coast Guard cutter, Mellon, during a patrol in the North Pacific. The patrol resulted in a 344% increase in boardings and uncovered an 867% increase in violations compared to last year's operation.
In July 2019, we gave Panama a report on the MV NIKA, a vessel suspected of IUU fishing. Panama shared this information with Indonesia through INTERPOL and the resulting multilateral investigation led to the vessel's arrest in Indonesian waters.