Jakarta, Indonesia – Ahead of the presidential election debate, the international non-profit organisation, Global Fishing Watch, calls on presidential candidates to commit to transparency in the management of the marine and fisheries sector, in order to fight illegal fishing and ensure the benefits of well-managed marine resources can be enjoyed by the Indonesian people.
On February 17, 2019, the General Election Commission (KPU) will hold a presidential election debate that will discuss plans for presidential and vice-presidential candidates in the fields of energy, food, infrastructure, natural resources and the environment in their five years of leadership.
"Indonesia's marine resources have the potential to improve the welfare of Indonesia's population and should be the government's priority," said Ahmad Baihaki, Indonesian Program Manager, Global Fishing Watch. "As a maritime country, with the second longest coastline in the world, Indonesia faces major challenges, including tackling illegal, unreported and unregulated fishing. Data sharing and transparency is vital to combat illegal fishing, to protect fish stocks and the livelihoods of communities dependent on seafood."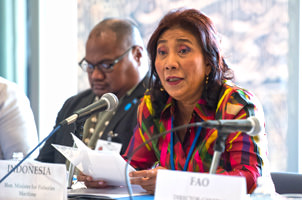 Since 2014, under the leadership of the Minister of Maritime Affairs and Fisheries, Susi Pudjiastuti, Indonesia has been pushing for increased monitoring and control of fisheries and marine resources, including bringing greater transparency to marine fisheries activities.
Global Fishing Watch is working with governments to publish their vessel tracking data, known as VMS, through our public map to strengthen monitoring and support enforcement. In 2017, Indonesia became the first nation to make its proprietary VMS data publicly available via Global Fishing Watch.
"Global Fishing Watch is helping the government in analyzing the fishing vessel activity data to monitor fisheries and combat illegal, unreported and unregulated fishing," said Ahmad Baihaki. "Our public map also tracks industrial fishing vessels around the world.This monitoring is important to safeguard Indonesian waters against the threat of illegal foreign fishing vessels."
Since Indonesia opened its VMS data,  other countries have been inspired by Indonesia's leadership and have opened their VMS data to the public via the Global Fishing Watch map.
"Indonesia has been a pioneer and at the forefront of global efforts to bring greater transparency to the fisheries and maritime sector," said Ahmad Baihaki. "Indonesia must maintain this commitment, and continue its efforts to improve fisheries governance in order to protect our vast marine resources."
Global Fishing Watch (GFW) is an independent international non-profit organisation that is actively promoting marine sustainability through transparency. GFW uses the latest technology to visualize, track, and share global fishing vessel data through its online map platform. The GFW map can be accessed by the public free of charge, with vessel data appearing with a three-day display delay.
Furthermore, in Indonesia, GFW also works with other non-profit organisations to track and understand commercial fisheries that have not used VMS transmitters. We also collaborate with universities and research centres to produce high-quality research using GFW data.
Editor's note:
(1) University of California, Santa Barbara used Global Fishing Watch data to see the impact of eradicating IUU fishing, they found that curbing IUU fishing combined with capping harvest at maximum sustainable level could result in a 14% catch increase and a 15% increase in profits by 2035. This is also without causing short-term losses to the local economy. The research shows that Indonesia succeeded in integrating policies and data. As a result, foreign fishing in the country dropped by more than 90 percent and total fishing dropped by 25 percent. However, Indonesia is still facing greater challenges in fisheries data because 90% of fish catches come from small vessels under the size of 30 gross tonnage which are not required to use VMS. Therefore GFW collaborates with several NGOs in Indonesia who are tracking these small vessels to unify data to get a complete picture of Indonesian fisheries.
(2) In Indonesia, GFW cooperates with the Directorate General of Marine and Fisheries Resources Monitoring (PSDKP) and Task Force 115 to help combat IUU fishing. GFW also learned a lot from its partners in Indonesian fisheries matters and has contributed in several major arrests such as foreign vessels Silversea 2, Fu Yuan Yu 831 and STS 50. As a result of market demand for sustainable and traceable catches, the industry has also begun to realize the importance of sustainability in their business. GFW is working with several industry associations such as the Pole and Line Fisheries Association and Indonesian Handline to ensure its members contribute to a healthy ocean and a dynamic industry.