Peruvian vessel monitoring system is shining a light on the large artisanal squid fleet in the Southeast Pacific Ocean, Peru's second most important fishery.
Peru recognizes the value of transparency to improve the monitoring and management of its rich fisheries. The country has publicly shared its vessel monitoring system (VMS) data since March 2018, but its efforts did not stop there. Since then, Peru has reached two new vital milestones. The installation of VMS devices in artisanal squid vessels now allows them to be registered with the South Pacific Regional Fisheries Management Organization (SPRFMO) and fish beyond jurisdictional waters, and we are hearing firsthand from the fishers what this means to them.  
Peru has also mandated the use of these same monitoring devices in foreign squid vessels that seek to use Peruvian ports for maintenance, refueling, or crew change. These important developments are helping bring new levels of transparency and accountability to the actions of those who seek to draw a harvest from the seas on Peru's horizon.
Since October 2019, around 800 artisanal fishing vessels have become visible through Peru's VMS. For the first time, their fishing activity can be publicly monitored on the Global Fishing Watch map. So, what type of vessels are these?
Every year, crews comprised of a half dozen fishers board small vessels measuring 10 meters on average and built mostly of the tropical South American hardwood "tornillo." By the hundreds, they sail in search of jumbo squid (Dosidicus gigas), a highly migratory, voracious, and fast-growing pelagic species. The trips to catch this valuable resource can last from six days — when the squid are within 60 nautical miles of the coast — to 15 days, when the squid are concentrated 200 nautical miles off the Peruvian coast. The wooden vessels must chase their prey to the high seas, enduring the risk of offshore weather, mechanical problems and other risks. How can these small wooden boats fish safely so far from shore?
The big leap from GPS to VMS
In years past, the Peruvian artisanal squid vessels used only a GPS to navigate sea fog and other low-visibility conditions. The lack of a VMS device onboard meant that their position was not broadcast, recorded or monitored. In 2016, the Peruvian Ministry of Production (PRODUCE), through Supreme Decree No. 006-2016-PRODUCE, formed fishing cooperatives in the communities of La Islilla and La Tortuga in Peru's Paita province. Later, it did the same in the San Jose fishing cooperative. This pilot program sought to strengthen and better organize the fishery. On May 15, 2018, PRODUCE established a VMS regulation for traceability and vessel safety, with decree No. 003-2018-PRODUCE, requiring vessels to broadcast their position through VMS as a condition of maintaining their fishing permits. The three large fishing cooperatives of La Islilla, La Tortuga, and San Jose began making their fishing operations visible and transparent.
It was not until the third quarter of 2019 that the vessel surveillance division of the Peruvian Ministry of Production (SISESAT) registered the first artisanal vessel, broadcasting its VMS positions every 20 minutes. From October 2019, the number of vessels with VMS grew exponentially, reaching 497 vessels at the beginning of March 2020.  While this growth was briefly interrupted by the COVID-19 pandemic and stay-at-home orders, nearly 800 artisanal vessels now appear on PRODUCE's surveillance screens and the Global Fishing Watch public map — thanks to the VMS sharing agreement . By the end of 2021, about 1,000 artisanal fishing vessels targeting jumbo flying squid are expected to join the Peruvian VMS. These vessels will sail beyond jurisdictional waters, where they will end up sharing fishing grounds with the squid distant-water fleet of approximately 500 active vessels.
First Peruvian milestone: artisanal squid vessels head towards the high seas
Suppose a Peruvian artisanal vessel seeks to operate outside the jurisdictional waters, in the high seas. It must first request authorization from the SPRFMO, the regional fisheries management organization that oversees resources such as jack mackerel and jumbo squid in the Southeast Pacific. One of the main requirements is to have VMS. Today, nearly 800 Peruvian artisanal squid vessels have met this requirement and are ready to catch squid far from shore.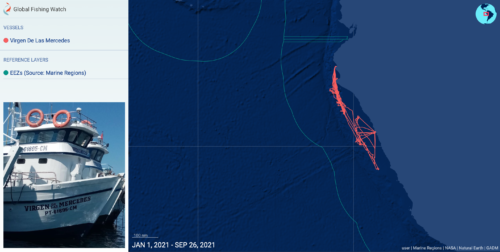 With the race to the high seas recently underway, the first to set sail and leave the port was Joan Ramos, the owner of nine vessels and a member of the Association of Artisanal Fishing Shipowners Mar de Paita (APAMARPA). He registered the first seven artisanal vessels—one of them, the VIRGEN DE LAS MERCEDES— to the SPRFMO vessel registry. Two more vessels would be registered in the following months, according to Ramos.
Originally from Lima but residing in Paita, Piura, Ramos commented, "One of the requirements was to have installed a VMS equipment, which we had already installed since our vessels began to operate. With this, we not only managed to register our vessels in the SPRFMO but also, show the world that there are Peruvian artisanal vessels that go out to catch squid outside the 200 miles, and also, now it can be seen on platforms such as Global Fishing Watch." Credit for this  first Peruvian achievement is due to APAMARPA, which is different from the three large fishing cooperatives that started this long voyage and laid a path for other groups of squid fishers and shipowners.
Second milestone: Peru is bringing transparency to foreign squid fleets
The second Peruvian milestone arrived through the Supreme Decree No. 016-2020-PRODUCE, published in August 2020. The decree mandates that foreign squid vessels install national VMS devices if they seek to use Peruvian ports for maintenance, refueling, or crew change. According to this new regulation, the vessel must broadcast its positions through Peru's VMS six months before entering the port to avoid AIS irregularities outside and inside Peruvian waters. Up to the present, five foreign squid vessels (three Chinese and two South Korean) have a Peruvian VMS. One of them, the Chinese-flagged LIA YU ER HAO, using both satellite tracking systems, AIS and Peru's VMS, can be seen on the Global Fishing Watch map. This is important progress.
The track of the Chinese-flagged squid vessel LIA YU ER HAO is shown on the Global Fishing Watch map, leaving Callao's port in Peru using both tracking systems (AIS in cyan and Peru's VMS in orange), in October 2020.
Global Fishing Watch applauds the Peruvian government for promoting artisanal fishing tracking through the implementation of satellite monitoring systems and inclusion of that information in the SPRFMO's official records. The importance of transparency and accountability on the open water cannot be overstated. Also, we recognize Peru's efforts in strengthening port regulations based on the Port State Measures Agreement (PSMA). Global Fishing Watch will continue working with Peruvian authorities to strengthen vessel monitoring in one of the most important fisheries in the South Pacific Ocean and Peru, the jumbo squid fishery.
Eloy Aroni is a fisheries analyst for Global Fishing Watch.