On March 1st 2020, Indonesian authorities seized five Vietnamese vessels fishing illegally in the North Natuna Sea, located south west of Indonesia's Natuna Islands, which borders the South China Sea. The successful operation was conducted by patrol vessels from the Indonesian Directorate General (DG) of Surveillance (PSDKP) of The Ministry of Marine Affairs and Fisheries (MMAF), and reflects their commitment to combat Illegal, Unreported and Unregulated (IUU) fishing in the North Natuna Sea. The Vietnamese vessels and their crew were detained in Batam Island, where the DG Surveillance regional office is located.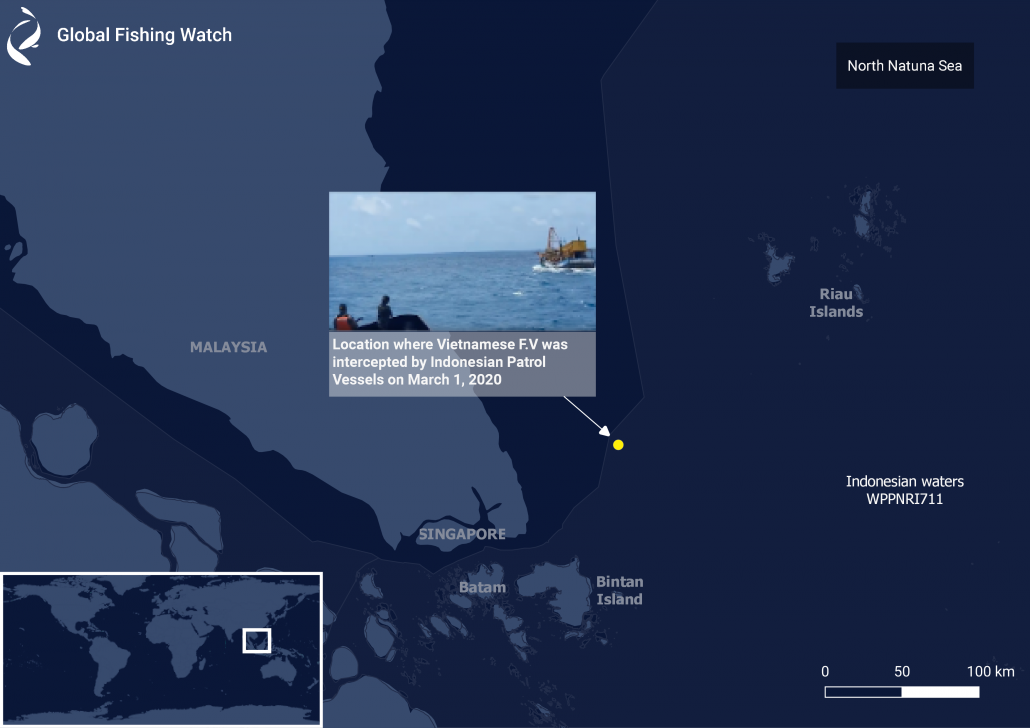 Figure 1. Location of the five Vietnamese fishing vessels intercepted by Indonesian authorities on March 1, 2020.
The latest seizure suggests that the IUU fishing threat in the Natuna Sea remains high. It follows similar breaches of Indonesia's EEZ by Chinese fishermen, escorted by their coast guard, last December and videos taken on mobile phones by local fishermen in the area, shared widely in the press, showing Vietnamese vessels illegally fishing in the Natuna Sea. The Government of Indonesia has declared that in 2020 the Navy will intensify and focus patrols in the Natuna Sea. However, this has yet to fully deter foreign vessels fishing illegally in these waters.
Drawing in data to detect IUU fishing
Through our partnership with the Indonesian government, Global Fishing Watch monitors the Natuna Sea and alerts the Indonesian authorities to suspected IUU fishing in these waters. Global Fishing Watch analysis draws on various data sources, including the automatic identification system (AIS) – a GPS-like device that transmits a vessel's location; and radar imagery, which can identify large metal vessels and penetrate clouds, and is provided by the European Satellite Agency (ESA) Sentinel-1 and Sentinel-2 satellite observations. 
In February 2020, our analysis of AIS data detected a Vietnamese fishing vessel operating in Indonesia's Economic Exclusive Zone (EEZ)* in the east Natuna Sea (Figure 2). The fishing vessel was detected fishing in Indonesian waters since 2019 (its identity is not being shared publicly while Indonesian authorities conduct their investigation). Global Fishing Watch also looked at satellite radar images of the location where this fishing vessel was identified. The result is very interesting. 
Figure 2. Fishing vessel's AIS track from Vietnam and fishing illegally in Indonesian waters from February 9 through February 26, 2020.
Detecting a dark fleet
Global Fishing Watch identified at least 15 fishing vessels from satellite imagery around the location of the AIS transmission from the vessel from Vietnam, in the east Natuna Sea. The 15 vessels were not transmitting AIS. These 'dark' boats – vessels that do not publicly broadcast their location or appear in public monitoring systems – aligned themselves in pairs and kept a constant distance from each other (Figure 4 and Figure 5). The vessels' movement behavior in the satellite images suggests that the vessels were operating pair trawl fishing gear. Pair trawling involves two boats towing a large net in mid-water between them. The analysis suggests that the Vietnamese fishing vessel was not operating alone; there were other fishing fleets operating illegally in the area. The vessel tracks of the Vietnamese vessel can be seen in Figure 2 and the locations where the other 15 'dark' fishing vessels were detected using satellite imagery can be seen in Figure 3.
Tracking a repeat offender
Figure 2 shows the track, using AIS data, of the Vietnamese vessel operating throughout February 2020. This vessel departed from a fishing port in the Vung Tau region of Vietnam on Feb 6, 2020 and reached Indonesian waters 3 days later. It appears to have fished illegally for about 3 weeks, until the end of the month, before it returned to the Vung Tau fishing port on March 1, 2020. 
Figure 3. Locations where 15 'dark' vessels were detected near a vessel from Vietnam that transmitted its location via AIS.
Figure 4 and Figure 5 show two samples of 'dark' vessel detection from satellite imagery. Looking at how they moved and maintained their distance, these vessels were operating pair trawler gear, which is commonly used by Vietnamese fishing vessels.
Figure 4. Two 'dark' vessels detected out of 15 vessels, observed in satellite imagery around the occurrence of a vessel from Vietnam at the North Natuna Sea on Feb 14, 2020.
Figure 5. Two 'dark' vessels detected, out of 15, in satellite imagery around the occurrence of a vessel from Vietnam at the North Natuna Sea on Feb 14, 2020.
Having returned to Vung Tau, according to our AIS data, a week later on March 07, 2020, the Vietnamese vessel returned to fish again in the North Natuna Sea. The analysis suggests IUU fishing by foreign vessels in the North Natuna Sea continues to be an issue, with foreign fishers making repeat visits to fish illegally in these waters. (Figure 6).
Figure 6. Repetition of incursion by the Vietnamese vessel in the North Natuna Sea.
Collaboration key to tackling IUU fishing
Regional cooperation is key to combating IUU fishing, and sharing data can be a key part of the solution. Global Fishing Watch is eager to support governments in filling the gaps in monitoring their fleets and fishing activity, and finding innovative and science-based solutions to eliminating IUU fishing. Indonesia has demonstrated global leadership in open data-sharing by publishing its vessel tracking information via the Global Fishing Watch platform. This is an important step forward in Indonesia's efforts to strengthen monitoring and control in its waters, and our analysis can be used to support patrols in the Natuna Sea. We urge more nations to embrace transparency and the considerable gains that can be realised through sharing data publicly on fishing activity, IUU vessels and their catch. 
* Global Fishing Watch recognises that the maritime delimitation is not agreed between Indonesia and Vietnam for their respective EEZs. For this analysis the existing treaty for the delimitation of the continental shelf between the two countries was used as a proxy for the boundary of the EEZs. Global Fishing Watch welcomes the efforts by both nations to expedite the delimitation of the EEZs to strengthen their ability to identify and combat IUU fishing.