Satellite technology reveals decline in illegal fishing activity in North Korean and Russian waters compared to previous years 
In July 2020, as the COVID-19 pandemic was sweeping across the globe, Global Fishing Watch published a groundbreaking scientific paper revealing one of the largest known cases of illegal fishing. The foreign fishing activity detected across 2017-19 in the Democratic People's Republic of Korea (North Korea) and Russian Federation (Russia) waters was largely conducted by dark fleets—vessels that do not publicly broadcast their location or appear in public monitoring systems. 
The study drew widespread interest and underlined the value of transparency and technology to improve monitoring of fishing activity and the importance of transboundary fisheries management. A follow-up analysis examining fishing activity by dark fleets in North Korean and Russian waters throughout 2020 shows a significant decline—one that is likely reflective of increased satellite monitoring as well as the impact of the coronavirus.
Scientific study reveals illegal fishing
Combining multi-sensor satellite technologies and machine learning, Global Fishing Watch led a team of researchers from eight institutions in producing a study that found nearly 1,000 vessels of Chinese origin fishing illegally in North Korean waters across 2017 and 2018. These vessels were likely in violation of domestic regulations and United Nations (UN) sanctions, which prohibit countries from purchasing fishing rights or procuring seafood from North Korea. 
Our paper, published in Science Advances, estimated that this operation caught almost as much Pacific flying squid as neighboring countries, Republic of Korea and Japan, combined. The haul was estimated at more than 160,000 metric tons of squid, worth about half a billion U.S. dollars. Our subsequent analysis of 2019 data showed that the illegal fishing continued unabated. 
Illegal fishing has no doubt accelerated the stark decline in squid stocks in the region, with reported catches plummeting by about 80 percent since 2003. The study also revealed a few thousand smaller North Korean vessels fishing illegally in Russian waters in recent years. We found a strong correlation between the size of the illegal fishing operation in Russian waters and the number of so-called "ghost boats" washing up empty or with human remains on Japanese shores. The study suggested that competition from industrial trawlers is one of the possible reasons why North Korean fishers venture farther from home in ill-equipped boats, often with tragic results.
2020: A landmark year
For our 2020 analysis, we monitored dark fishing activity in North Korean waters using the same technologies and methodology presented in our published paper. Harnessing the power of satellites, we combined optical and radar imagery, taken over 40 days across the squid fishing season—which usually runs from May to December—along with daily observations of nighttime optical imagery and automatic identification system, or AIS, vessel tracking data. 
Figure 1. Four satellite technologies were used to detect dark fishing fleets: automatic information system data, optical imagery, nighttime optical imagery, and satellite radar.  
Figures 2a-2d show a sample of vessel detections for 2020 using four satellite technologies.
(a) A select four-day sample of pair trawler activity using high-resolution optical imagery obtained from Planet.
(b) A select four-day sample of pair trawler activity using radar imagery processed by Kongsberg Satellite Services.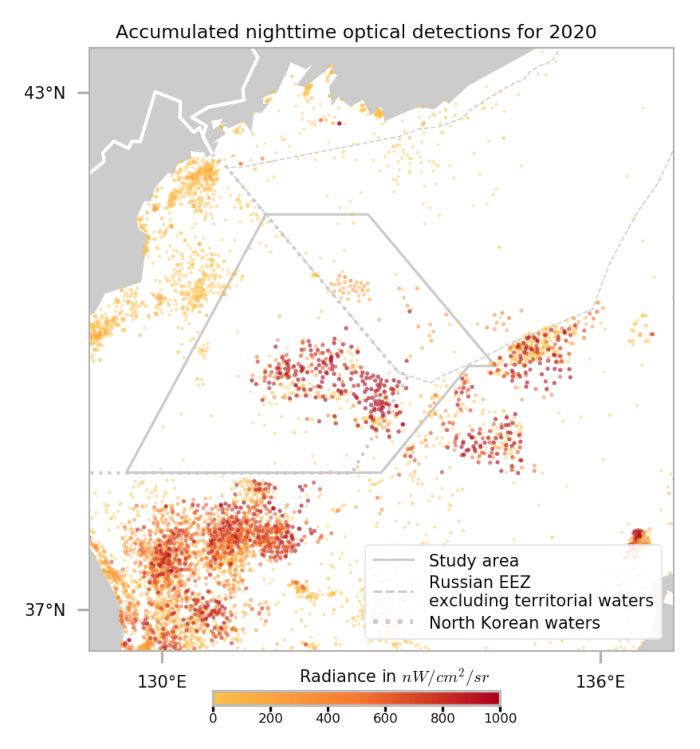 (c) Accumulated detections over 2020 using nighttime optical satellite imagery.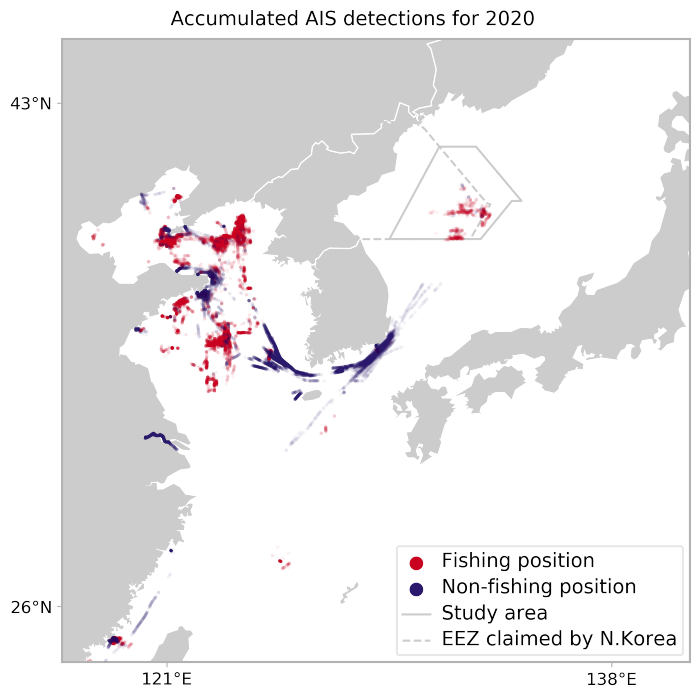 (d) AIS positions of vessels that likely fished in both North Korean and Chinese national waters during 2020.   
Figure 3 shows fishing activity conducted by industrial fishing vessels of Chinese origin in North Korean waters across 2017-20. Among the approximate 700 fishing vessels we detected in 2020, we found that far more fishing took place in the first half of the season. The intensity of fishing declined considerably in the second half of the 2020 season compared to the same period in the previous year. During the annual squid fishing season, fishing activity is at its peak from September through November. In 2020, we observed about 50 percent fewer vessels over this same period compared with previous years. The estimated catch of about 53,000 tons contracted to the level below that of 2018 when a 1-in-100-year heat wave affected the catch. Estimated to be worth $170 million, the overall value of squid catch coming out of North Korean waters in 2020 is the lowest it has been in four years. 
Figure 3. Fishing activity for 2020 conducted by dark fleets in North Korean waters compared to previous years. Illegal fishing in North Korean waters dropped by about 50 percent in the second half of the fishing season. 
We observed an even greater decline in dark fishing activity in Russian waters throughout 2020. Activity by North Korean artisanal vessels fell dramatically; estimated fishing days were reduced by nearly 95 percent compared to the previous year (see Figure 4). Except for a small peak of about 200 fishing vessels detected in October 2020, the number of vessels detected monthly across the entire year is negligible in comparison to previous years. 
Our analysis shows that the departure of North Korea's squid fleet from Russian waters did not lead to a notable increase in fishing intensity in its own territorial waters. Media reported that North Korean authorities, in an effort to help mitigate the spread of the coronavirus,  implemented stricter rules that prohibited fishers from taking to offshore waters. Furthermore, the presence of ghost boats washing ashore Japanese coasts nearly disappeared in 2020, underscoring their correlation with the artisanal North Korean boats fishing in Russian waters.
Figure 4. Fishing activity for 2020 conducted by North Korean dark vessels in Russian waters compared to previous years. Illegal fishing in Russian waters plummeted to about five percent compared to the previous year. 
Closing the net on illegal fishing
In a media report last year, the Ministry of Foreign Affairs of the People's Republic of China (China) stated that it has "consistently and conscientiously enforced the resolutions of the Security Council relating to North Korea." Our analysis suggests that since the adoption of UN Security Council resolutions in 2017 to sanction North Korea, including the prohibition of foreign fishing, dark vessels operating in North Korean waters have illegally caught an estimated $700 million worth of squid. It also shows the persistence of illegal fishing by vessels originating from China operating throughout North Korean waters during 2020, albeit at lower levels than in previous years. Last year, Japanese authorities observed a significant increase in these vessels crossing into adjacent waters. The dramatic decline in illegal fishing by North Korean boats in Russian waters is encouraging, but likely attributed to temporary measures to limit the spread of coronavirus. 
Stakeholders should recognize the need to strengthen monitoring, control and surveillance measures to stamp out illegal activity on a permanent basis—embracing fisheries transparency is a good starting point. The systematic and sustained illegal fishing observed by our satellite data is jeopardizing the recovery of dwindling squid stocks in the region and the livelihoods and safety of fishers.
Governments in the region have demonstrated a clearer commitment to fighting illegal fishing. China and the Republic of Korea recently reached an agreement to ramp up joint efforts to tackle illegal fishing by vessels operating in North Korean waters. Fisheries agencies and coast guards are also showing an increased interest in applying satellite technologies and artificial intelligence to support their monitoring actions. 
To successfully eliminate illegal fishing, trusted and science-based information needs to be translated into enforcement and policy actions. Political will and intergovernmental dialogue are crucial for ensuring that such efforts are well-coordinated and long-lasting. 
Science, technology and international cooperation are proving critical not only when it comes to combating the spread of COVID-19, they are also central to achieving effective governance of our ocean. The pandemic has caused disturbance across all sectors of the blue economy; we must take advantage of this moment to ensure a sustainable blue recovery. 
Governments, seafood markets and enforcement agencies need to double down in their efforts to strengthen cooperation, support greater transparency in fisheries, and ensure more coordinated and effective interventions to tackle illegal fishing. Global Fishing Watch remains committed to supporting collaborations with various actors through scientific and innovative solutions for open and effective fisheries monitoring.
Jaeyoon Park is a senior data scientist at Global Fishing Watch.