Access to Global Fishing Watch's data, alongside geospatial tools available on the Terminal, will increase monitoring and protection of ocean ecosystems and communities at risk from overfishing and climate change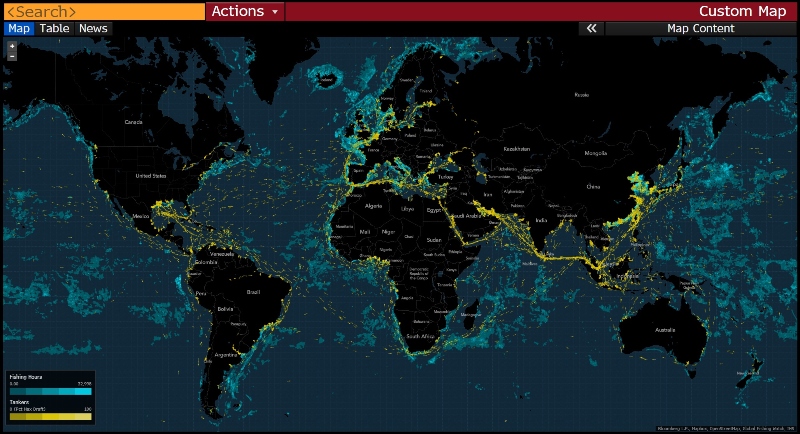 Oslo, Norway. October 24, 2019. Today at Our Ocean 2019, Bloomberg Philanthropies Chief Executive Officer Patricia E. Harris announced a new initiative between Bloomberg LP and Bloomberg Philanthropies' Vibrant Oceans Initiative partner Global Fishing Watch (GFW) to bring GFW's data on global fishing activity to the Bloomberg Terminal. As marine ecosystems and coastal communities increasingly face pressures due to overfishing and climate change, this partnership provides Bloomberg Terminal subscribers with fisheries data to inform global efforts to combat these mounting challenges.
"This new tool will increase transparency for businesses and governments by allowing them to track data such as fishing vessel location, which will be featured alongside the latest information on climate change, coral reefs, natural resources, and natural disasters," said Harris. "It will also help investors drive capital toward responsible actors." 
As climate change is increasingly considered by companies in their financial decisions, the Bloomberg Terminal's custom mapping and geospatial tools help companies, investors, and researchers better picture climate-related risks and opportunities. Starting today, the GFW data is available on the Bloomberg Terminal via an interactive map that allows subscribers to see global fishing data by country and gear type, increasing transparency for businesses and governments and supporting the monitoring of global fishing activity.
"The Bloomberg Terminal is at the cutting edge of innovation, delivering fast access to market-moving news, data, and trading tools," said Tony Long, CEO, Global Fishing Watch. "Global Fishing Watch is immensely proud to be a part of this project and help empower the Bloomberg Terminal's subscribers to turn this new layer of knowledge into action."
GFW uses several data sources, primarily Automatic Identification System (AIS), to provide a clearer view on fishing activity via its public map. AIS is a GPS-like device that large ships use to broadcast their position in order to avoid collisions. The Bloomberg Terminal will now feature fishing activity detected from AIS vessel movement data using proprietary machine learning models developed by GFW to reveal when and where vessels are fishing.
Additional features on the Bloomberg Terminal include the option to layer the map with climate, weather, or coral reef data, as well as access a curated news feed on fishing. Bloomberg Terminal subscribers and key stakeholders can harness the tool for use in specific areas, including:
Improving insurance products for coastal infrastructure, including coral reefs and mangroves that act as natural barriers against extreme weather. Insurers are currently developing new metrics and frameworks that take into account natural coastal assets and their relationship to coastal resilience. Using the map to view and predict changing environmental impacts on infrastructure will be key as the climate changes.
Highlighting coral reefs' contribution to tourism. Reefs directly contribute an estimated $33.5 billion annually to the GDP of 52 countries. The map identifies where reefs are bleached or experiencing strong fishing pressures, information that can be used by the tourism industry to protect assets on which it heavily relies.
Contributing to environmental, social, and governance (ESG) analysis between land and sea. The new map view allows subscribers to combine Bloomberg Terminal data and locations of interest with a range of other fishing and environmental data sources, as investors consider and map out a broad range of ESG factors.
Understanding fishing activity. Fishing vessels catch enough tuna to contribute more than $42 billion to the global economy annually. MAP FISH visualizes where commercial fishing is taking place, what types of fishing gears are used, and with which countries boats are registered.
Supporting trade & oceans decision-making. If it were a country, the oceanic economy would be the seventh largest in the world. The map will help both government and business access new data sources and make better decisions.
Bloomberg Philanthropies' Vibrant Oceans Initiative partners with coastal communities, nonprofit organizations, local and national governments, policy makers, and academic groups to ensure our ocean continues to survive and thrive in the face of the growing threat of climate change. Bloomberg Philanthropies has committed $156 million to the venture, which advances evidence-based conservation practices and implements data-driven fisheries management policies.
With support from Bloomberg Philanthropies, GFW is committed to working with 20 countries to publicly share additional vessel tracking data via the GFW map by 2022. In 2017, Indonesia became the first nation to make its fishing fleet visible to the world via GFW. Since then, Peru, Chile, Panama, Mexico, Namibia, and Costa Rica have either published their vessel data to the GFW map or have publicly committed to do so.
This new Bloomberg Terminal functionality was showcased at Our Ocean Conference 2019, currently taking place in Oslo, Norway.
Media Contacts:
Sarah Bladen, Global Fishing Watch
sarah@globalfishingwatch.org
+44 79 20333832
Daphne Wang, Bloomberg Philanthropies
daphne@bloomberg.org
+1 212-205-0314
###
About Global Fishing Watch:
Global Fishing Watch (GFW) is an international non-profit organization dedicated to advancing the sustainability of marine resources through increased transparency. By utilizing the latest technology, the GFW platform allows everyone to view or download global fishing activity data in near real-time, for free. GFW was founded in 2015 through a collaboration between Oceana, SkyTruth, and Google.
About Bloomberg:
Bloomberg, the global business and financial information and news leader, gives influential decision makers a critical edge by connecting them to a dynamic network of information, people, and ideas. The company's strength – delivering data, news, and analytics through innovative technology, quickly and accurately – is at the core of the Bloomberg Terminal. Bloomberg's enterprise solutions build on the company's core strength: leveraging technology to allow customers to access, integrate, distribute, and manage data and information across organizations more efficiently and effectively. For more information, visit Bloomberg.com/company or request a demo.   
About Bloomberg Philanthropies' Vibrant Oceans Initiative:
As climate change increasingly threatens key ocean ecosystems, Bloomberg Philanthropies' Vibrant Oceans Initiative is working around the world to advance evidence-based conservation practices and implement data-driven policies to protect our oceans and the 3 billion people that depend on them. Launched in 2014, Bloomberg's Vibrant Oceans Initiative currently operates with partners Rare, Oceana, Global Fishing Watch, and the Wildlife Conservation Society in 10 countries that are top fishing nations – Australia, the Bahamas, Chile, Fiji, French Polynesia, Indonesia, the Philippines, Tanzania, Peru, and the United States – to win science-based policies, protect priority coral reefs least vulnerable to climate change, and increase transparency through the adoption of national fishing data platforms.
About Bloomberg Philanthropies:
Bloomberg Philanthropies invests in 510 cities and 129 countries around the world to ensure better, longer lives for the greatest number of people. The organization focuses on five key areas for creating lasting change: Arts, Education, Environment, Government Innovation, and Public Health. Bloomberg Philanthropies encompasses all of Michael R. Bloomberg's giving, including his foundation and personal philanthropy as well as Bloomberg Associates, a pro bono consultancy that works in cities around the world. In 2018, Bloomberg Philanthropies distributed $767 million. For more information, please visit bloomberg.org or follow us on Facebook, Instagram, YouTube, and Twitter.