Satellite technology illuminates foreign and domestic vessels in search of one of Peru's most valuable catches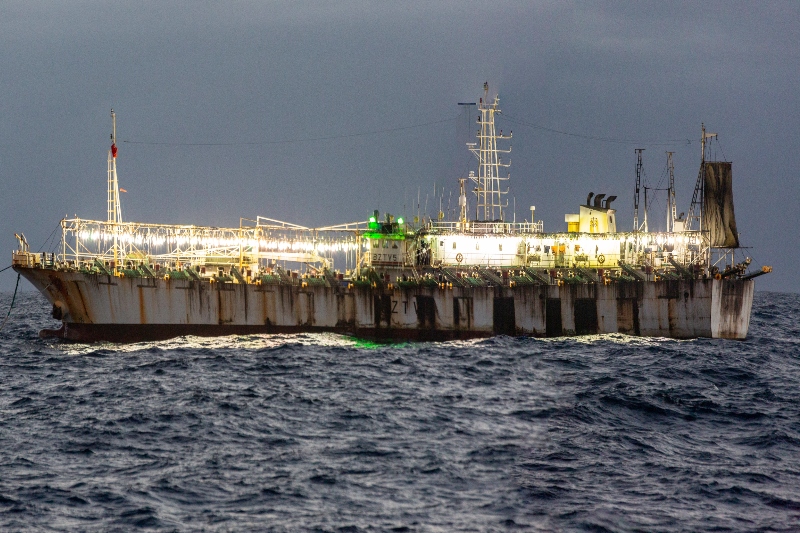 Nearly 400 industrial foreign squid vessels were engaged in fishing activities last month on the border of Peru's exclusive economic zone (EEZ). Their interest? A jumbo squid fishery.
This cephalopod fishery represents one of the world's largest, and is home to the Dosidicus gigas, otherwise known as jumbo squid. These voracious predators are a highly migratory species with a rapid growth rate and short life span. Its population produces some of the biggest catches worldwide, with an average annual catch of 800,000 tons in the last five years and a maximum of 1.16 million tons in 2014. After anchovy, it is Peru's most important fishery.
Since 2018 Global Fishing Watch (GFW) has been working with Peruvian authorities to strengthen vessel monitoring and help address illegal fishing in this valuable fishery.
A tale of two squid fleets
Squid within Peru's EEZ is caught by an artisanal fleet made up of approximately 2,500 vessels whose fishing activity extends from 4 -18 degrees north latitude, mainly inside Peruvian waters. On occasion, the artisanal Peruvian vessels travel outside of the 200 nautical miles that make up Peru's EEZ and intersect with the Asiatic industrial squid fleet, which comprises approximately 400 vessels that are flagged to China, the Republic of Korea, and the fishing entity of Taiwan.
While Peruvian artisanal vessels are built from wood and use manual jigger lines with 2-3 lights to attract squid to the surface, Asiatic industrial vessels are constructed from marine steel, usually weigh between 800-1000 gross tons, and are outfitted with automated jiggers that use up to 150 incandescent lamps to generate intense light that can be detected by nighttime satellite imagery and displayed by GFW's night light map layer.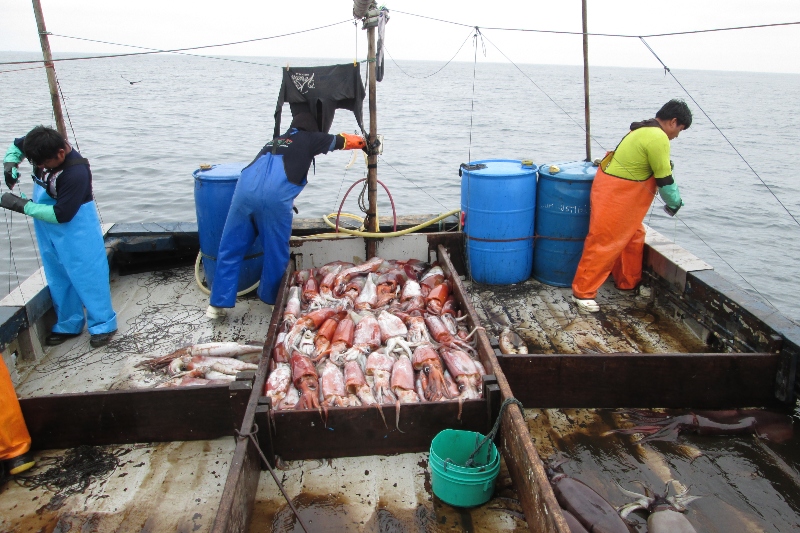 The giant squid fishery is managed by the South Pacific Regional Fisheries Management Organization (SPRFMO) whose convention area extends from 120 east to 67 degrees west longitude along the EEZs of Ecuador, Peru and Chile.
During 2019, a total of 707 distant water squid flagged to China, the Republic of Korea, and the fishing entity of Taiwan – China with the biggest fleet  – were registered and authorized to fish jumbo flying squid on the high seas. Of these vessels, a total of 544 were actively fishing for jumbo flying squid. According to the 2019 SPRFMO Report of the Scientific Committee, 516 were flagged to China, 17 to the Republic of Korea and 11 to the fishing entity of Taiwan.
The number of fishing vessels flagged to China that are active in areas regulated by SPRFMO has increased by roughly 400 percent over nine years; from 104 vessels in 2010 to 264 in 2014, and 516 vessels in 2019. The 516 Chinese squid vessels caught a total of 305,700 tons in 2019 on the high seas, compared to the 2,500 Peruvian artisanal vessels that caught 494,000 tons in the same year in national waters. The significant growth of fishing effort by the Chinese squid fleet is an issue that has been discussed at recent SPRFMO meetings.
Mapping the squid fleet's annual route 
The annual pattern of the Asiatic squid fleet shows the range of fishing operations throughout the South Pacific and South Atlantic Oceans.
From approximately January through April 2020, part of the squid fleet operated in an area east of the Galápagos Islands EEZ boundary – a fishing ground since 2017 – while the other part of the fleet roamed the high seas off of Argentina. By May, both squid fleets left their respective fishing grounds. The vessels around the Galápagos Islands' EEZ boundary started to transit to Peru's EEZ's boundary, while those near Argentinian waters departed the South Atlantic Ocean and began their 4,000 nautical mile trek, passing through the Strait of Magellan to the South Pacific Ocean. It is there, along Peru's EEZ, that the two groups of ships met to form one giant fleet.
From May to September, the approximate 350 vessels moved to international waters between the Galápagos Islands' EEZ and Ecuador's EEZ, the area of high seas located south of the Galápagos, and then throughout Peru's southern EEZ boundary (in between Desventuradas Islands and Chile's EEZ).
But tracking vessels is only one component of transparency. Following the catch is another.
While artisanal Peruvian vessels have an average travel duration of 5-10 days and must return to port to land their squid, Asiatic squid vessels don't need to transit back to their "home"ports thanks to an activity called transshipment. Transshipment, or the transfer of catch from a fishing vessel onto a refrigerated cargo ship, also know as a reefer, allows the Asiatic squid fleet to  transport their catch from the high seas off Peruvian waters to Chinese ports for processing – an 11,000 nautical mile trek – without ever having to leave the fishing grounds.
Looking to ports to monitor the high seas fleet
The Asiatic squid fleet operating in these waters use the Peruvian ports of Chimbote and Callao, as well as Montevideo in Uruguay, as their main points for refueling, maintenance and change of crew. Concerns related to illegal, unreported and unregulated (IUU) fishing have been linked to the industrial squid fleet operating on the high seas. Potential risks include the misreporting of catch and possible unauthorized fishing inside Peru's EEZ – a risk that has been evidenced by Argentina through cases like the Chinese-flagged vessel LU YONG YUAN YU 668 earlier this year.
Robust oversight of the industrial fleet is also obstructed by a lack of transparency. Global Fishing Watch has identified a number of cases involving unidentified vessels that broadcasted inconsistent AIS information, vessels that switched off their transponders close to EEZ boundaries, and vessels that manipulated their AIS data to broadcast false locations.
Through the Port State Measures Agreement (PSMA) – an international treaty aimed at preventing IUU catch from being landed at port – Peru and Uruguay are able to investigate foreign vessels visiting their ports for suspected IUU fishing activity. This provides the best opportunity to ensure vessels are compliant with international regulations and also allows port authorities to inspect vessels that are not transparent or fail to broadcast continuously on AIS.
New measures by Peruvian authorities  
Peru has begun to implement regulations in the squid fishery, not only within its artisanal fleet but also among the foreign squid fleet that operates on the high seas and uses its ports.
In March 2019, ministerial resolution No. 069-2019-PRODUCE was passed, a formal process requiring the installation of vessel monitoring systems (VMS) among the artisanal squid fleet, allowing the fleet to appear on the world's radar for the first time.
A second regulation, No. 016-2020-PRODUCE, published in August 2020, mandated foreign vessels be outfitted with VMS devices if they wish to use Peruvian ports for maintenance, refueling, or change of crew. According to this new regulation, which will help strengthen monitoring and control of the Asiatic squid fleet operating outside of Peruvian waters, vessels like YUAN SHENG 6, which recently utilized port services in Callao, must start the process of acquiring a satellite tracking system compatible with Peru's Ministry of Production, or PRODUCE, in order to enter Peru's ports again. No foreign squid vessel that chooses to use Peru's ports will escape the eyes of Peruvian authorities.
Sailing towards transparency 
Peru is taking the necessary steps to bring transparency to its waters. Through mechanisms like the PSMA, as well as the mandated installation of VMS on foreign-flagged vessels, Peru will be able to better monitor and control the squid fleet, making it easier for Peruvian port authorities to detect illegal fishing.
While vessels may attempt to engage in unscrupulous behavior and hide behind the weaknesses of satellite tracking systems, GFW's data and analysis can support the regulatory authority of Peruvian port officials to combat IUU fishing within Peruvian waters.
Eloy Aroni is a fisheries analyst for Global Fishing Watch.