With increased transparency, we can see beyond the horizon and address the threats facing our oceans. Global Fishing Watch's (GFW) mapping platform increases the transparency of commercial fishing activities worldwide, empowering Oceana and others to expose problems that were once out of sight, far from our coasts. Oceana analysts, part of Oceana's Illegal Fishing and Transparency Campaign, proactively monitor and investigate commercial fishing activities, shining a light on suspicious activities at sea. Oceana's global leaders use the platform to monitor fishing trends, investigate unusual activities and advocate for increased transparency to protect the world's oceans. Oceana, a founding partner of GFW along with SkyTruth and Google, has collaborated with researchers, scientists and other NGOs on reports and investigations that are empowered by GFW data. Here is some of Oceana's work from 2018.
Tracking Marine Wildlife and Commercial Fishing
Oceana works with researchers to overlay data from tagged marine wildlife on the GFW map, demonstrating a cutting-edge approach to studying the impacts of commercial fishing activities on these animals. This year, we partnered with Dr. Austin Gallagher, Chief Scientist and CEO of Beneath the Waves; Dr. Neil Hammerschlag, Research Associate Professor at the University of Miami Rosenstiel School of Marine and Atmospheric Science; and additional collaborators to expand our shark tracking, releasing a customized GFW workspace for Shark Week that overlays the movements of 45 sharks comprised of blue, tiger, shortfin mako, porbeagle, dusky and great and scalloped hammerheads.
This initiative demonstrates a cutting-edge approach to study the impacts of commercial fishing activities on marine wildlife and opening the door to inform future conservation and management efforts. Oceana will expand this effort, collaborating with other researchers who use telemetry to study marine wildlife.
Highlighting Vessels Possibly Going Dark at Sea
A common but potentially unscrupulous practice is for vessel operators to turn off their Automatic Identification System (AIS) or "go dark" to public maritime tracking systems. Some vessel operators may choose to hide from public view for legitimate reasons, like hiding from pirates. But disabling AIS can jeopardize the safety of a vessel and its crew, possibly putting them at a higher risk of colliding with another vessel. This behavior may indicate that a vessel is intentionally avoiding detection to hide suspicious or illegal fishing activities, such as fishing in protected areas, transferring illegally caught fish to another vessel, entering a country's waters without authorization, or violating other fisheries laws.
In March we released an investigative report revealing four examples of fishing vessels that appeared to turn off their public tracking system, which may raise suspicion and warrant further investigation. Two Spanish vessels, a Panamanian vessel and an Australian vessel each appeared to turn off their AIS when approaching a marine protected area where industrial fishing is prohibited or while in the waters of developing African countries where illegal fishing is known to occur.
For example, a Panamanian commercial fishing vessel seemed to disappear on the west side of the Galápagos Marine Reserve, reappearing after 15 days on the east side of the reserve, where it headed straight for the Port of Manta in Ecuador. Only local artisanal fishermen can fish in a portion of the reserve and all industrial fishing is prohibited throughout. Going invisible to public tracking systems does not mean that this vessel entered or fished within the boundaries of the marine reserve, but it raises questions and warrants further investigation.
Exposing such activities brings accountability and awareness. Oceana urges governments to require all commercial fishing vessels to be equipped with and continually transmit tamper-resistant AIS technology, as well as other proposed solutions below:
United States: Building a Seismic Vessel Watch
Using GFW data, Oceana analysts built an interactive map that allows anyone to view vessels capable of seismic exploration for oil and gas in US waters. Oceana's "We're Watching" map, launched in November when the federal government authorized companies to harm marine mammals with seismic airgun blasting activities in the Atlantic Ocean, displays near real-time activity of seismic exploration vessels associated with companies seeking permits in the Atlantic.
"If these companies are allowed to begin seismic airgun blasting, our map gives the public near real-time access to the precise locations of vessels so that they know when, where and if these activities begin off our coast," said Diane Hoskins, campaign director at Oceana. "This interactive map is a powerful tool in the fight to protect Atlantic communities from offshore drilling."
Europe: Analyzing Western Mediterranean Fishing Effort
Using GFW data, Oceana analysts evaluated the 2017 fishing behavior of trawlers and dredgers entering 28 French, Spanish and Italian harbors in the Western Mediterranean. The team created maps showing the fishing footprint for these harbors to help estimate the impacts of future spatial restrictions. Oceana Europe uses these data to advocate for expanding the ban on bottom trawling within the Western Mediterranean Multiannual Management Plan.
Europe: Exposing Potential Illegal Fishing in the Mediterranean
In July, Oceana Europe released a report exposing 41 potential cases of illegal fishing in the Mediterranean Sea, using GFW data to show more than 20 Italian bottom-trawlers fishing in a closed area and uncovering possible illegal intrusions of foreign vessels into the waters of seven Mediterranean countries. The findings were shared at two governmental meetings of the General Fisheries Commission for the Mediterranean and Oceana uses these cases to call for greater transparency and enforcement of current policies in the Mediterranean.
Working with Governments to promote Transparency at Sea
Governments have the power to massively increase transparency at sea. Oceana is working with governments around the world to scale up the number of vessels visible to the public for free through GFW by advocating for increased AIS requirements and securing commitments from countries to publish their private Vessel Monitoring System (VMS) data.
Indonesia was the first country to publish its VMS data, and after Oceana and GFW worked closely with the Peruvian government, Peru published its VMS data through the GFW map in October (see image below showing Peru's VMS data in green). Oceana is calling on other countries to follow the leadership of Indonesia and Peru to increase transparency by adding their vessel tracking data to the mapping platform. With more data, everyone has a more complete view of commercial fishing activities worldwide.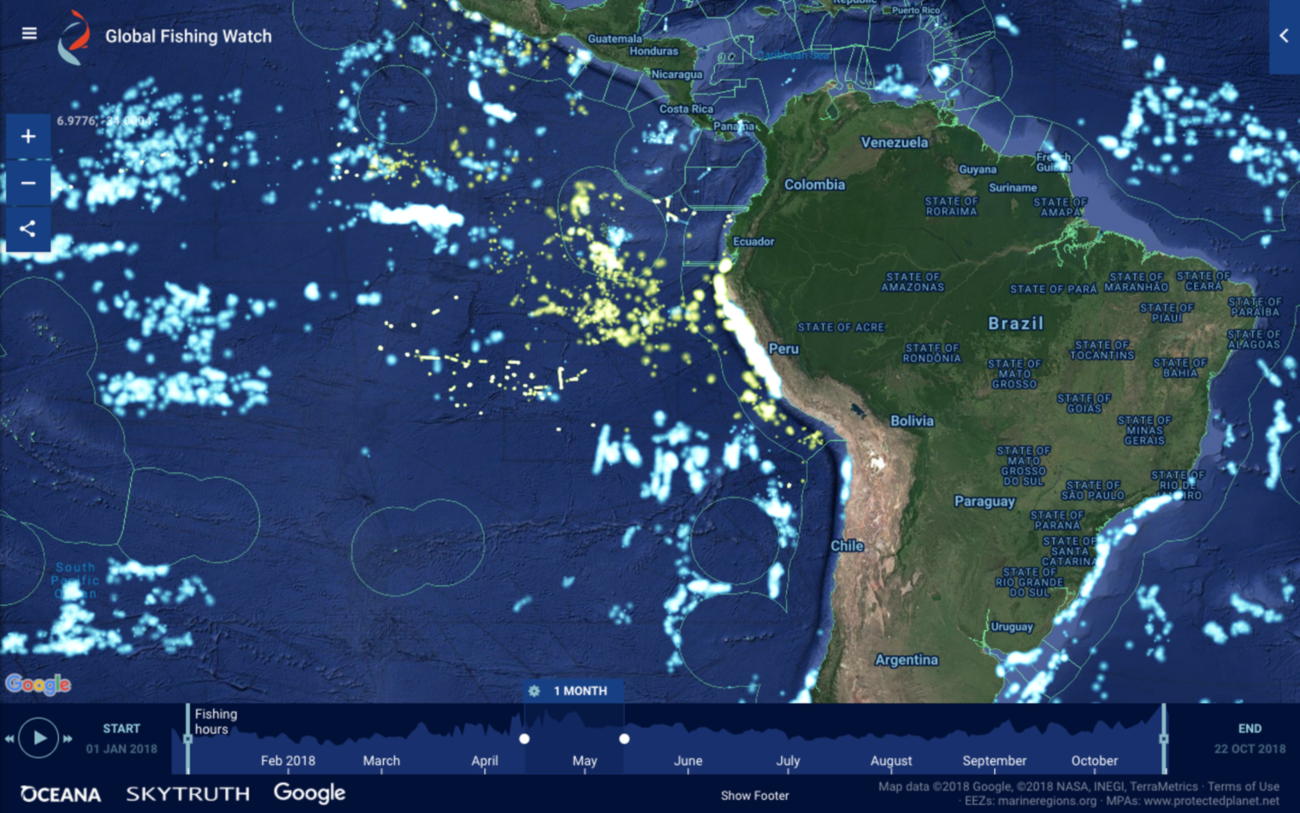 To stop illegal fishing, we need to see beyond our shores. Transparency is the solution. Oceana advocates for increased transparency worldwide to help protect and restore the world's oceans. Transparency can protect our oceans when combined with effective policies, extensive monitoring and strong enforcement. To learn more about Oceana's work using GFW data, visit our illegal fishing and transparency campaign page here.