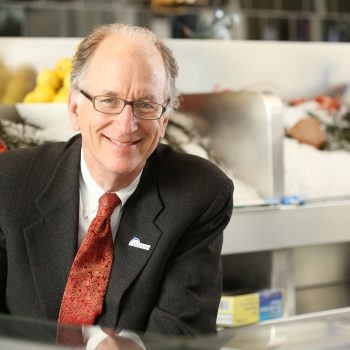 Board Treasurer, Global Fishing Watch co-founder
Andrew Sharpless has led Oceana since 2003. Founded in late 2001, the organization has grown to be the largest international conservation organization fully dedicated to protecting the oceans.
Before leading Oceana, he served as Executive Vice President of Discovery.com, the online division of Discovery Communications. Prior to that, he was Senior Vice President of the management team that launched RealNetworks, which pioneered online streaming media. As VP at the Museum of Television & Radio in New York City, he helped manage its move to a new and expanded Philip Johnson-designed building in midtown Manhattan.
Andy was a management consultant at McKinsey & Co., working for a variety of corporate, non-profit, and governmental clients. As an advocate, Andy joined People for the American Way shortly after its founding, serving as deputy director of development. He was a grassroots organizer for the Center for Study of Responsive Law, and the leader of the launch of the Wisconsin Citizens Utility Board. His volunteer work includes serving as trustee and treasurer of Sidwell Friends School in Washington, D.C.
Andy holds degrees from Harvard Law School, the London School of Economics, and Harvard College.