More transparency for better ocean governance
Fisheries underpin the food security and economic security of many coastal nations, but fish cross borders as do fishers, and governing bodies need better knowledge of where fishing occurs. Coastal nations must rely on each other to cooperatively manage and regulate their fishing fleets, a challenge that requires trust and transparency.
Global Fishing Watch's map tracks the activity of about 60,000 commercial fishing vessels in near real time. We use data from the automatic identification system (AIS), an open broadcast of a ship's identity and location. While AIS offers an unprecedented global view of fishing, it doesn't cover all fishing boats and it can be tampered with. So we're collaborating with a growing number of countries to include data from other sources, such as government-operated vessel tracking systems.
Indonesia paves the way for government transparency by sharing VMS data
Costa Rica commits to making its fishing fleet visible to the world
Peru becomes the second nation to publish VMS data through GFW
Panama makes its fishing fleet visible to the world through GFW
Indonesia leads the way
In an unmatched step, Global Fishing Watch published the first ever publicly shared government-owned Vessel Monitoring System (VMS) data, paving the way for unprecedented government transparency in the fishing industry.
Indonesia took the bold and unprecedented step in June 2017. By sharing their VMS data through Global Fishing Watch, Indonesia, one of the world's largest fishing nations, has committed to a level of transparency that fosters trust and holds them accountable for the effective regulation and monitoring of their fishing fleets and the foreign fleets within their waters.
In October 2018, Peru became the second nation to publish VMS data through Global Fishing Watch. Panama became the third country to do so in October 2019. Costa Rica is committed to doing following suit.
Why countries benefit from going transparent
Public sharing of VMS data improves surveillance by encouraging vessels to comply with fisheries regulations; transparency breeds self-correcting behaviour. It is a strong deterrent to illegal operators. By going public with VMS, unauthorised vessels and those that don't have a history of compliance can be easily spotted and prioritised for inspections. Vessels that 'go dark' and turn off tracking devices can be held accountable when they come into port. Better-targeted inspections for IUU-caught fish can also reveal other issues, such as lack of safety equipment or poor working conditions.
When a country decides to "go transparent" on our fishing activity map platform it makes a conscious decision to support better ocean governance. This supports not only ocean conservation but can also help to prevent human rights violations on fishing boats and secure livelihoods of local fishermen.
A global call for transparency
The United Nations Sustainable Development Goal 14 calls for the sustainable management of ocean resources, ending IUU fishing and harmful subsidies, science-based fisheries management, and the conservation of at least 10% of the world's coastal and marine areas by 2020. A global system based on transparency should underpin this ambition: it can drive success by making clear who is complying and who is not.
Monitoring fishing activity across the ocean's vast expanses is a huge challenge for one government alone, but together, we can work towards more transparency and implementation of the Sustainable Development Goal 14. The oceans connect all of us. Here more than anywhere international cooperation is the key to success.
Where we're headed
Global Fishing Watch will offer partnerships to 20 countries within the next 5 years to make their VMS data public and receive the support of our platform. Going "transparent" will mean for those governments that monitoring becomes cheaper, more effective, and that responsible fishing is rewarded. Bad actors will stand out more clearly and can be penalised appropriately.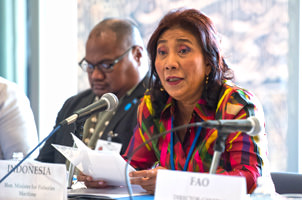 "Illegal, Unreported and Unregulated (IUU) Fishing is a global crime. To put an end to it, we have to use all the tools we have to ensure that all fishing efforts in our waters are seen and recorded."
– Susi Pudjiastuti, Minister of Marine Affairs and Fisheries, Indonesia
"We must cut the lifeline that is keeping illegal operators afloat. Through greater transparency we can pull together to put unscrupulous operators under the spotlight and out of business before they do real harm."